Reduce waste, eliminate guesswork and save time for your practice with an inventory management tool built to suit the fast-paced nature of your practice. With Inventory Management Solutions, you can streamline the management of your largest asset and ensure you have the critical medications you need for patients, exactly when you need them.
Our dynamic platform helps streamline all aspects of inventory management so your practice can run more efficiently.
With Inventory Management Solutions, you can:
Manage your critical inventory-related functions all within one system
Simplify daily processes such as tracking drug purchases, dispensing, administration and restocking
Reduce manual drug inventory-related procedures, allowing staff to spend more time with patients
Features:
Innovative, flexible options to save you time and money
Suggested dispense – Dispense your medication order based on smart suggestions when a drug spans multiple vial sizes
Demand ordering – Leverage a pre-populated purchase order based on your patient demand, synced from your EMR*
Tally sheet – Input tallies directly into the system to eliminate manual processes and have your purchase order created with lowest cost option for those tallied drugs
Configurable workflow – Only use the features that match your clinical workflow to minimize complexity
Real time reporting — Review charge capture, dispenses, and inventory on hand in real time
Total inventory control —Track all inventory levels and activity, including medications from specialty pharmacies, patient assistance programs and samples
Technology support team —From implementation to day-to-day questions, you can count on personal training and support from our dedicated technology team
*EMR integration is evaluated on a case-by-case basis.
Flexibility to address the unique needs of specialty practices
Access Inventory Management Solutions via a cabinet and tablet option or a tablet-only option.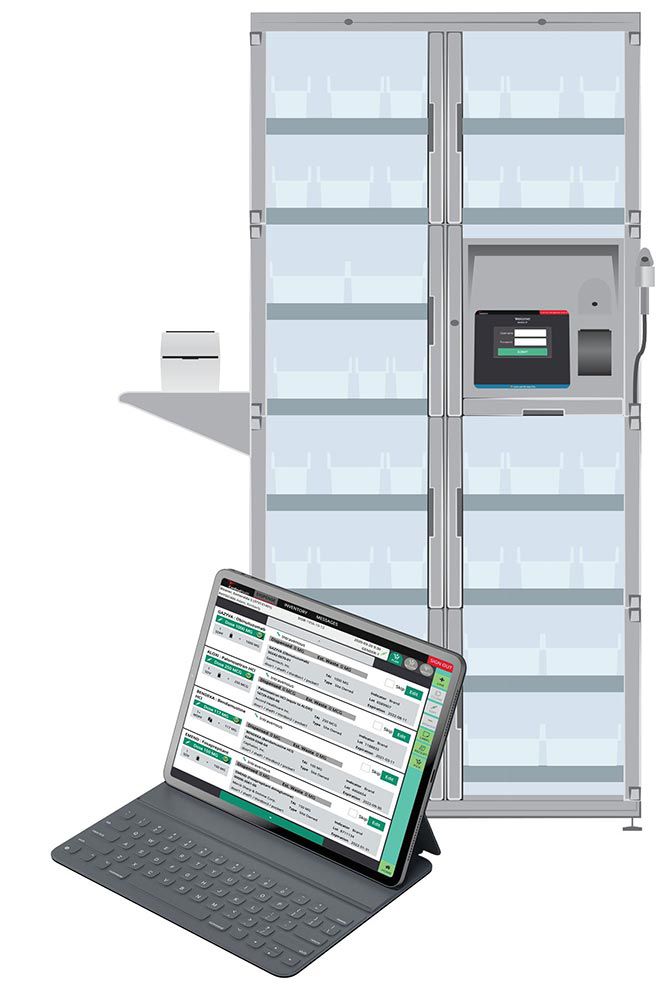 Learn more about Inventory Management Solutions
"Yesterday was an order day, the biggest of the week, and it took me about 1 hour whereas it used to take me 2.5 to 3 hours… I appreciate you setting us up for this system, it's pretty amazing."
– Infusion Inventory Specialist