Services
Support for your business, your patients and your community
Medicine Shoppe International, Inc. (MSI) is dedicated to providing high-quality, result-driven business ownership opportunities in professional retail pharmacy. We'll provide you with the tools and support you need to succeed in a competitive, ever-changing industry.
---
Benefits of franchising:
Become the healthcare destination for personalized care for families in your community. By becoming a franchisee, you'll benefit from:
Being part of a recognized, high-performing franchise system
Patient Care Solutions & support to achieve improved Star Ratings for Adherence and Outcomes
Franchise Business Consultants accountable for individualized support for your pharmacy at no cost to you
Pharmacy Marketing Advantage - industry leading digital marketing platform that drives refills for your pharmacy.
---
Services that benefit your business:
MSI is committed to providing value-added solutions that keep you competitive in a changing market. In addition to the core offering that is included in our franchise agreement, several services are eligible for solution credits to minimize additional monthly fees.
Our core services have been selected and designed to meet the core needs of today's independent pharmacy owner.
Core Services:
Franchise Business Consultants (FBC)
MSInterNet
Automated MAC Advantage
Audit Assistance
Managed Care Account Management
Central Pay
Information and Assistance Center (IAC)
Sales Capture and Reporting (SCR)
EQuIPP? dashboard
Compliance Management Service (LearnSomething Portal)
CAMP (Compliance and Marketshare Programs)
$300 Services Credit?
?
Understand the facts about franchising.
---
Services that benefits your patients:
Franchisees will receive these services at a discounted rate and up to $300 in monthly credit towards purchased services.
Recommend services:
Reimbursement Consulting Services
Cardinal Health? Reconciliation Services
Cardinal Health? Inventory Manager (CIM)
Diabetes Specialized Care Center
Front-end Product Management with options for Retail Pricing and Planograms
In-Store Radio and On-Hold Messaging
Franchise Business Consultants support implementation of the services you need to become a destination for patient care in your community.
---
Cardinal Health? Pharmacy Marketing Advantage
Franchisees who participate in Cardinal Health? Pharmacy Marketing Advantage (digital platform) and meet specific criteria in one or more select patient care services, may be eligible for up to $199 in patient care credits to reduce the cost of your digital platform.
Cardinal Health? Point-of-Care Testing Program
OutcomesMTM?
Reconciliation+
EQuIPP?
Dispill? Multi-dose Packaging
Medication Synchronization
Pharmacy Marketing Advantage includes marketing tools like customized Medicine Shoppe and Medicap Pharmacy website templates and mobile app, designed to drive customer engagement and refills.? In addition, our franchisees benefit from email capabilities, SEO optimization, texting and digital advertising at no extra cost.

The information provided in this website is not intended as an offer to sell, or the solicitation of an offer to buy a franchise. An offer or solicitation can only be made by a franchise disclosure document. This communication is not directed to residents of any jurisdiction that requires registration of a franchise prior to offering and selling a franchise in such jurisdiction. No franchises will be sold to any resident of any such jurisdiction until the offering has been registered and declared effective by such jurisdiction and the required offering circular has been delivered to the prospective franchise owner in compliance with applicable law.
Franchise Business Consultants provide expert advice and individualized support for your pharmacy.
Receive valuable guidance on best practices, operations, and implementation of business solutions and patient care services.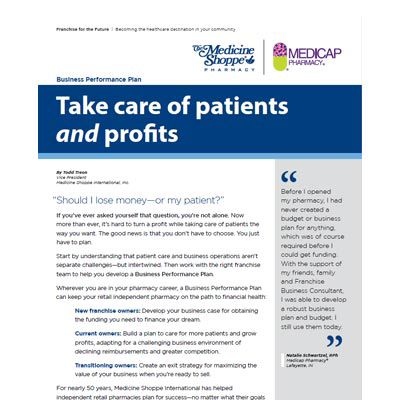 Take care of patients and profits
Read how MSI can help you develop a business performance plan that can keep your retail independent pharmacy on the path to financial health.