GRIP? Sealant
The GRIP? sealant securely adheres to the surface of the vessel and dissolves within 30 days leaving nothing permanently behind. MYNX? devices use a soft, bio-absorbable, sponge-like sealant that absorbs blood and other fluids to seal the arteriotomy unlike some of the other vascular closure devices that use hard plastic, metal, or animal-based implants.

Reach out to our team for ordering information.
CUSTOMER SERVICE
For product specifications, service, and certificate requests, please call our Customer Service team.
Product description
Clinical articles
About vascular closure
The GRIP? sealant consists of Polyethylene Glycol (PEG), which is non-thrombogenic and biocompatible, and it is found in a wide range of cosmetic and medical products including skin creams, cosmetics, toothpaste, eye drops, laxatives, and gel caps. It is an effective material to cover an incision and stop bleeding because of its biocompatibility and its ability to absorb blood quickly. The dual-action GRIP? sealant adheres to the outside of the artery by interlocking with the vessel wall, instantly absorbing blood and fluids and expanding three to four times its original size. The MYNX? devices place the GRIP? sealant without tugging, pulling, and cinching, and it dissolves within 30 days leaving nothing permanently behind.
Refer to the IFU for detailed procedure steps.
Vascular disease is a medical term given to the narrowing of blood vessels (arteries and veins). This type of disease occurs mostly in the heart, neck, and legs and if not caught or treated early, can cause serious health problems.
Regardless of where the narrowing occurs, diagnosis is crucial. To do so, the doctor makes a small puncture in either the femoral artery, near your groin area, or in the radial artery, near your wrist. A small hollow tube, called a sheath, is placed through the puncture site to allow your doctor access to your arteries, to visualize and, if necessary, treat the diseased vessel.
At the end of the procedure, the sheath is removed and a small hole, called an arteriotomy, remains in your artery. There are several methods and products designed to close the hole, including manual compression, sandbags, c-clamps, and a group of products called vascular closure devices.
Potentially Uncomfortable Manual Pressure
Until the early 1990's, the standard method for closing the femoral artery at the groin after an interventional procedure was to apply manual pressure on the groin until the bleeding stopped. This process, which is still used today, can be uncomfortable for patients and requires a nurse or other clinician to apply manual compression to the area for 15-30 minutes. This is often followed by placement of a compression bandage on the groin while the patient lies flat on his or her back for 6-8 hours, which many patients describe as the most uncomfortable part of the procedure.
Vascular Closure Doesn't Have to be a Pain
Compared to manual compression, vascular closure devices close the access site faster and help patient comfort by allowing the patient to get out of bed and be discharged from the hospital sooner. Cardinal Health has advanced vascular closure device options with the MYNX? product family of vascular closure devices, which are designed to provide gentle and safe closure without cinching, tugging or potentially uncomfortable manual compression.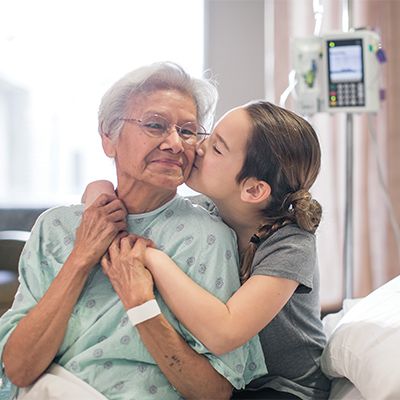 Get expert healthcare insights in your inbox every month.
Sign up for Essential Insights?and let us help your organization thrive in the challenging, dynamic world of healthcare.